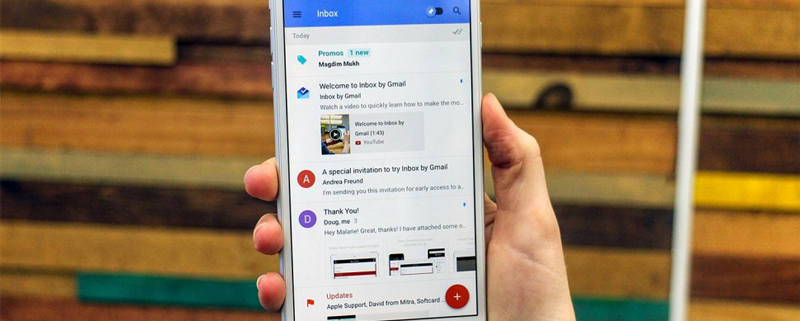 Google Inbox is an Advil for your pounding email headache
When you get as many emails as we do here at Digital Trends, you soon realize that email is terribly inefficient. Even if you use Gmail or another email organizing app, your inbox is probably a hot mess. Google's new app Inbox rethinks how we use email.
Related: Google gives Gmail a makeover for Android users
Its beautiful and easy to use interface lets you customize your inbox and sort all your emails based on subject, the level of importance, and whether you want to return to them at some point or not. It also incorporates reminders and speed dial email to make scheduling your life easier. The only downside is it's invite only — for now — so if you want to use it, you'll have to wait. Google is handing out invites to some users and you can get on the wait list by emailing inbox@google.com to request access. In the meantime, we tested it out to tell you how Google's Inbox could change the way you use email — forever. Setup is easy, but using Inbox is even easier.
Once we received our Inbox invites on our Gmail accounts, we downloaded the app, which is available for iOS and Android. We were then prompted to sign into the app, using the Gmail account where we got the invite. After a single tap, we were logged in. The app gave us a short tutorial on how to use all the cool new features and then we got down to business.
Google's Inbox includes the following features:
Bundles: Google sorts your mail into bundles based on subject matter, so airline tickets show up in Travel, bank statements show up in Finance, and Facebook reminders pop up in Social. It's an extension of what Gmail does already — but it works better. You can even create your own bundles to suit your needs.
Highlights: Inbox shows you more than just the subject line of emails. You'll see what look like Google Now cards, showing attachments, specific info, app and company logos, and more. The coolest ones are for flights — When you tap on the card, you'll see all your flight info and emails from the airline, with essentials like boarding-pass barcodes.
Reminders and Sweep: You can add reminders from scratch, and the app will import all your Google Now reminders. You can also swipe right on any item to call it done, so unimportant emails don't clutter up your small screen. You can also sweep away any messages that aren't pinned and they'll go to the Done folder, leaving your inbox clean.
Assists: Inbox will help you accomplish your reminders by giving you the tools to properly respond to the email. For example, if you write a reminder to call your mom, Google will supply her phone number, so you can call her directly from your inbox. If you need to swing by a store, you'll see the address, phone number, and hours of operation.
Snooze: The app lets you snooze reminders and schedule messages, but it will remind you to look at them later in the day.
Pin: One of the coolest features in Inbox is the ability to pin messages that you think are important or may want to revisit in the near future. Then, when you want to see only your pinned messages, you simply tap the pin toggle at the top of the app — all the other emails simply disappear.
Speed dial: In the bottom corner of the app there's a round, red plus sign where you can quickly email your most popular contacts, set reminders, or compose emails.
Most of the new features work seamlessly, and you'll recognize a lot of them from the Gmail app. The main differences lie in the cleaner simpler user interface. Material Design is clearly at work in the Inbox app, with its flat UI look and bold colors. It looks equally good on iOS and Android phones, and was designed with mobile devices in mind. Google says it's meant to modern email, but at this point, it's not a Gmail replacement. It seems more like Google's testing Inbox out to see how people respond to the new features, and while we like most of them, a few others clearly needed some more thinking.
Most things are easier, but some aren't
The main gripe we had with Inbox was how difficult it was to delete a message. While sweeping a message away to the Done folder is all well and good, that Done folder can fill up pretty quickly with spam. We prefer to delete messages that aren't of any use to us. Done makes sense for reminders, but even those should disappear eventually.
We also wish it were easier to set up our own bundles. Instead of adding contacts one at a time, it would be nice to add multiple email addresses in one go with commas — just like you do in a normal email. It would also be nice to link other kinds of email accounts into the Inbox app — right now you can only add multiple Gmail accounts.
That said, Inbox is a huge step forward and we hope to see it become open for everyone to download. We've the sneaking suspicion that a lot of Gmail users will love it.
Read more: http://www.digitaltrends.com/mobile/google-inbox-app-changes-email/#ixzz3IEv04wH2
Follow us: @digitaltrends on Twitter | digitaltrendsftw on Facebook
https://elementalstudios.us/wp-content/uploads/2014/11/google_777.png
533
800
Bruce Quiroz
https://elementalstudios.us/wp-content/uploads/2016/09/logo_es_nav-1.png
Bruce Quiroz
2014-11-05 18:46:25
2014-11-05 19:03:59
HANDS ON: GOOGLE INBOX