What's New in WordPress 5.0, Plus What to Expect From the Gutenberg Editor
Original Article from: https://themeisle.com – By JOHN HUGHES
Each time a new version of WordPress rolls out, we're all excited about getting to play with its new features. However, few versions in the past have garnered as much buzz around them as WordPress 5.0 because of these two simple words: Gutenberg Editor.
No, we're not talking about the German guy from the 1400s. Gutenberg is a complete redesign and re-imagination of the WordPress editor. Once WordPress 5.0 ships sometime later in 2018, the default way that people create content with WordPress will radically change.
Big changes to your favorite platform can be difficult to accept. However, even massively popular platforms such as WordPress need to adapt to the times, or risk losing market share. Gutenberg is a bold leap forward, and it's not the only update that's coming up.
In this article, we're going to discuss what makes WordPress 5.0 unique in comparison to previous releases, and then we'll get into what to expect from WordPress 5.0 and the Gutenberg Editor. Let's talk about the future!
WordPress 5.0 will be a bigger jump than recent major updates
If you've been using WordPress for a while, then you'll know how much the platform has changed over time. Even individual updates often bring significant shifts. For example, the 4.9 'Tipton' update enabled users to schedule design changes in the WordPress Customizer so they can go live at later dates, just like post drafts.
WordPress 4.8, on the other hand, brought us plenty of widget updates. For example, if you wanted images in your widgets in the past, you had to add them manually. Now, there are three dedicated media widgets for image, audio, and video files.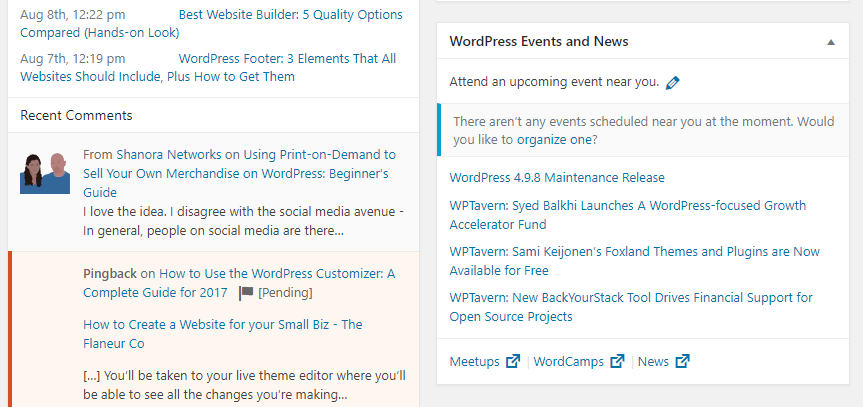 However, all the changes we've mentioned so far are pretty incremental. They're useful, but not exactly game-changing. Most WordPress updates have been more about taking small steps forward rather than major leaps – that is, until WordPress 5.0.
What to expect from WordPress 5.0
WordPress 5.0 is kicking "incremental" to the curb with some pretty major changes. The biggest is the aforementioned Gutenberg Editor, which we'll talk more about in a moment.
But WordPress 5.0 also marks a change to how the platform handles releases. It used to be the case that you could count on getting two major WordPress releases per year, with plenty of mini-updates in the meantime.
Now, the WordPress core team is planning on moving away from that scheduled release model. The idea is that by removing the pressure of predetermined deadlines, the platform will be able to take more significant leaps, and we won't get updates that feel as though they lack in meaningful content.
Aside from that, here are a few of the other significant changes we're likely to see once WordPress 5.0 is live:
What the Gutenberg editor means for you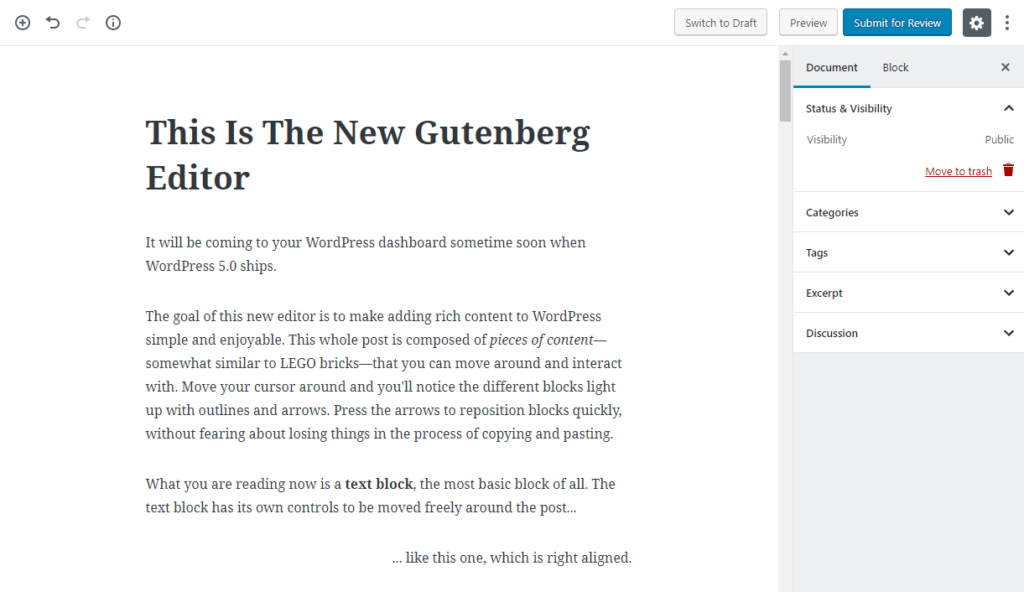 The launch of Gutenberg means that you'll need to get acquainted with a whole new editing experience. Right now, WordPress 5.0 is still poised to ship in 2018, but no one knows exactly when. When that happens, you can expect a lot of activity for a few weeks, as everyone learns to contend with the new editor.
However, you can get a head start and find out exactly what you're in for. Right now, you can test a beta version of Gutenberg by installing a simple plugin. Or, if you just want to play around with the Gutenberg Editor without installing the plugin, you can use the Frontenberg site:

Gutenberg
Current Version: 3.8.0
Last Updated: September 12, 2018
For more details about how the editor works, you can check out our complete Gutenberg Editor guide. Keep in mind, though, that there's still some time before WordPress 5.0 ships, so there are likely to be more changes to the editor.
Gutenberg will affect themes and plugins, too
Aside from your own editing experience, Gutenberg will also bring important changes to a lot of your favorite plugins and themes. For example, we'll probably see the emergence of a lot of Gutenberg-friendly themes, which will be designed to take advantage of all the new features the editor offers.
Similarly, you'll see changes with some of your favorite plugins. A lot of plugins interact with the WordPress editor directly, whether that's to add new functionality or include shortcodes. Those plugins will need to become Gutenberg compatible, unless they want to alienate a large part of their user base. Years from now, it might even be common to find plugins that only support Gutenberg.
When is the WordPress 5.0 release date?
Unfortunately, because of that change in approach we highlighted earlier, we don't know exactly when WordPress 5.0 will be released.
For now, the official answer is basically "when it's ready", which probably won't be until near the end of 2018 at the earliest.
Get ready because the times they are a-changin'
Each major release of WordPress brings changes to the way we use the platform. However, even before it's out, we can say with complete certainty that 5.0 will fundamentally change the way most people interact with WordPress because of the Gutenberg Editor.
If you're old-school, you'll be able to stick with the classic WordPress editor for the foreseeable future. However, if you plan on adapting, you'll want to start reading up on how Gutenberg works right away. This will give you a leg up on the competition once WordPress 5.0 is live, and will help you determine which of your themes and plugins may be most affected.
https://elementalstudios.us/wp-content/uploads/2018/09/wordpress-50-1024x512.jpg
512
1024
Bruce Quiroz
https://elementalstudios.us/wp-content/uploads/2016/09/logo_es_nav-1.png
Bruce Quiroz
2018-09-18 14:03:45
2018-09-18 14:13:01
What's New in WordPress 5.0, Plus What to Expect From the Gutenberg Editor